SIP Bulk Call Generator
PacketGen™ is a PC-based real-time VoIP bulk call generator (including both SIP signaling and RTP generation) for stress testing and precise analysis of the VoIP network equipment.
Brochure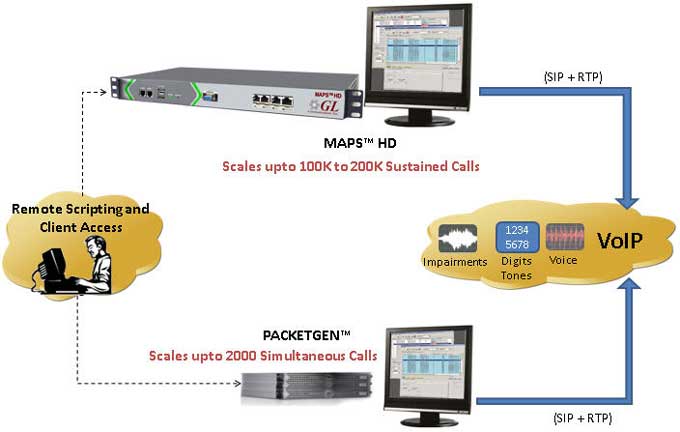 Overview
GL offers the following SIP/RTP bulk call generators and packet analyzer:
PacketGen™ is a PC-based real-time VoIP bulk call generator (including both SIP signaling and RTP generation) for stress testing and precise analysis of the VoIP network equipment. PacketGen™ is based on a distributed architecture, with SIP and RTP software cores modularly stacked in one or many PCs to create a scalable high capacity test system capable of generating more than 2000 simultaneous calls.
PacketGen™ on an i7 PC can support 2000 simultaneous calls with, both SIP and RTP generation. This performance number is associated with using the G.711 codec, while other codecs may provide higher call densities.
PacketGen™'s distributed architecture allows achieving higher call density by interconnecting more number of systems with SIP and RTP software cores.
PacketGen™ can be used to test basic functionality and verify proper protocol implementation in SIP based equipment such as SIP phones and Network Servers, Proxy Servers, Registrar Servers, and PSTN and Media Gateways.
GL provides PacketScan™ HD (PKV120) for High Density IP Traffic Analysis w/ 4x1GigE Network Monitoring and PacketScan™ FB (PKV121), a File Based IP Traffic Analyzer Server for near real-time processing of traces.
GL also offers MAPS™ SIP & MAPS™ SIP HD for advanced SIP/RTP bulk call generation with traffic. It is available as special purpose 2U network appliance that is capable of high call intensity (hundreds of calls/sec) and high volume of sustained calls (tens of thousands of simultaneous calls).
MAPS™ HD network appliance is designed to easily achieve 4 to 20,000 endpoints per server. Using a stack of multiple servers, a larger test system with 100K-200K calls (all controlled from a single Master Controller) is achievable for enterprise to carrier grade testing.
The network appliance performs signaling and traffic generation for a vast array of communication protocols covering IP and Wireless networks. It supports simulation of SIP UA, IMS SIP UE, SIP I+T, SIGTRAN, IuCS, MGCP, NCS, H.248/Megaco, Cisco SCCP (Skinny), Clear Channel (No Call Control) and provides non-reference-based voice quality using E-model (R-factor) and MOS with five mapping scales.
---
Main Features
Capacity

Distributed architecture for SIP and RTP systems provide high call rates and media streams. Also makes it scalable i.e. easy to add additional load generation capacity
PacketGen™ breaks ground with high density performance; PacketGen™ can generate 2000 simultaneous calls on an i7 PC. Higher density is also achievable using multiple systems
Up to 20 SipCores can be run on the same PC or on multiple PC systems. All 20 SipCores can be remotely controlled from a single system.

Call Generation

Full SIP Functionality - Registration, Call Forwarding, Call Hold, Call Transfer, Authentication, etc
Manual and Bulk Calling capabilities with complete flexibility on each call session
RFC 3261 compliant, RFC 2833 digit generation/detection
Generates both SIP signaling & RTP traffic (voice, fax, digits, tones)
Supports run-time parameters to control call and traffic behavior SIP Call Parameters (timers, Reliable Provisional Response, RTP Source, Packetization time for packets in RTP traffic, Control sending/ detecting of Outband digit codec, Receive Jitter Buffer, Authentication of incoming calls, and more) and Digit Generation and Detection parameters (power, on/off, pause, and amplitude).

Traffic Handling

Powerful scripting capability for RTP traffic generation, which allows user to simulate/test IVR kind of systems. Allows for conditional commands as well as script looping
Automatic generation of impairments over the RTP for any (or all) established calls. The impairments that can be generated include

Latency: Fixed, Uniform, Nominal
Packet Loss: Periodic, Random, Burst (burst probability and burst size)
Packet Effects: Out of order, Duplicate Packets

Automate the IVR testing process - call establishment and traffic generation / detection process through scripts
Monitoring IVR System for voice and data quality
Send/Record voice files on any (or all) RTP sessions. Recorded voice files can be sent to VQT software for voice quality analysis (requires additional license)
Perform various actions like send / detect digits / tones (both Inband and Outband), talk and playback actions on any (or all) RTP sessions to simulate real world traffic
Allows user to create early media (media can be transferred or received even before call is established) scenario

Supported Codecs

Almost all industry standard codec supported. For more comprehensive information on these codecs visit "Estimating Speech Quality of Packets
EVRC-C is not supported in PacketGen™.
*AMR, EVRC, EVRC B require additional licenses.

Remote Access

Remote access capability using GUI or command line interface or through Remote Desktop

Reports

Provides statistics, events and call records

Utilities

GL's Audio File Conversion Utility (Audio FCU) is used in conjunction with GL's packet products to automatically convert any voice file with different codec, into *.glw file format and vice versa, during send and record voice functions.
GL's Audio Stream Utility is used to playback the selected calls from a remote computer to the speaker on the local client PC.
---
Applications
Testing for Stress
Manual and Bulk Call Generation
Voice Quality Analysis, Digits, Tones, and Voice Files
Regression and Acceptance Testing
Matrix Testing
Protocol Compliance, Codec Compatibility Testing
---
Supported Protocol Standards
PacketGen™ is compliant to the UAC, UAS, Registrant and Redirect Server as per the RFC 3261 (SIP) along with backward compatibility of SIP RFC 2543 and RFC 3262 (Reliable Provisional Response).
---
Voice Quality Testing using PacketGen™
PacketGen™ can be used to establish calls and send/record voice files through the IP network. These voice files are then analyzed using GL's Voice Quality Testing (VQT) application as per ITU algorithms. Voice Quality testing can be completely automated using PacketGen™ CLI, RTP Action scripting, along with GL's ASR Listener, FCU and VQT software.
PacketGen™ is one of the platforms for transporting voice in GL's comprehensive Voice Quality Testing (VQT) solutions. For more details, click here for complete Voice Quality Testing information.
---
Audio File Converter Utility (AFCU)
PacketGen™ now transmits and records voice files using a GL proprietary file format (.glw). The accompanying GL Audio File Converter Utility (AFC) will automatically convert any voice file, encoded as G.711, G.729ab, G.726, or GSM, into *.glw file format and vice versa. This allows the ability to send/receive voice files at a higher density with multiple codecs (the file is predefined with the desired codec). It also allows for Discontinuous Transmission/Reception.
The Auto FCU (part of AFCU) is generally used in conjunction with GL's VQT application and converts degraded voice files from their native codec format to a standard format used by VQT. The Command line interface (CLI) in AFCU allows the users to load, start, and stop Auto FCU configurations, convert glw to pcm and vice-versa using the commands
---
Command Line Interface
In addition to the GUI, PacketGen™ can also be operated through a Command Line Interface (CLI). All the functionalities of the PacketGen™ GUI are supported, except the configuration functions. Users can thus operate PacketGen™ from a DOS based console (instead of the GUI) or easily integrate PacketGen™ into their own applications.

Download Sample PacketGen™'s CLI Script: Registration of SIP setup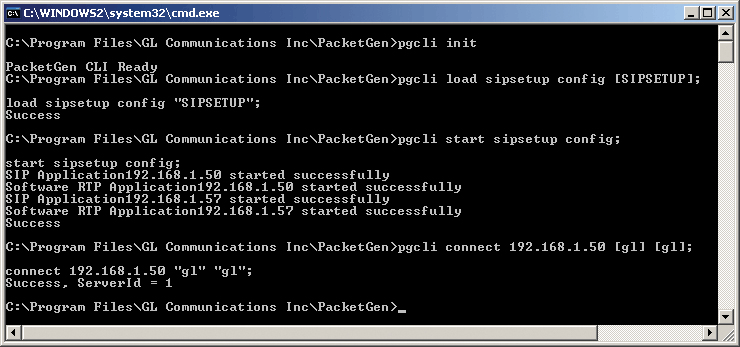 Specifications
Recommended PC
Windows® XP (32 bit and 64 bit)/ Vista (32 bit)/ 7 (32 bit and 64 bit) OS,
2 GHZ, 512 MB RAM, 40 GB Hard Drive,
10/100/1000 Ethernet Port, Parallel or USB port for Dongle, Headphones and Microphone
SIP Core
Multiple SIP Cores in a distributed architecture permits capacity scaling
RTP Software Core
2000 simultaneous calls on an i7 PC running single SIP/RTP Software Core
Distributed architecture permits 2000 simultaneous calls per each additional PC
RTP Software Core uses simulation of traffic by file transmission and reception
Audio Codecs supported by RTP Software Core are

G.711 (A-law and U-law - 64 Kbps)
G.711 App II (ALaw and MuLaw with VAD)
G.729A, G.729B (8 kbps)
G.726 (5 bit 40 kbps/4 bit 32 kbps/3 bit 24 kbps/2 bit 16 kbps)
G726 (40/32/24/16 kbps with VAD)
G.722
G.722.1 (24 kbps and 32 kbps Wideband)
GSM(13.2 kbps)
AMR (Narrow band codec - 4.75kbps, 5.15kbps, 5.9kbps, 6.7kbps, 7.4kbps, 7.95kbps, 10.2kbps, 12.2 kbps) (requires additional license)
AMR (Wideband codec - 6.60kbps, 8.85kbps, 12.65kbps, 14.25kbps, 15.85kbps, 18.25kbps, 19.85kbps, 23.05kbps, 23.85 kbps)
EVRC (Rates - 1/8, 1/2 , and 1-), EVRC0 (requires additional license)
EVRCB (Rates - 1/8,1/4 , 1/2 and 1), EVRCB0 (requires additional license)
SMV (Modes - 0, 1, 2 and 3- Available if licenses are provided or owned, please call GL)
iLBC (15.2kbps and 13.33kbps)
SPEEX (Narrow Band)
SPEEX (Wideband)
GSM HR (rate - 5.6kbps, packet time multiples of 20msec.)
GSM EFR (rate - 12.2kbps, packet time fixed at 20msec.)
SIP Call Generation
Manual and Bulk Call Generation
PacketGen™ supports both Manual and Bulk Call Generation, with complete flexibility on each individual call session
Quick Configuration Utility - Multiple User Agents can be quickly created using any one User Agent as a reference
Current Status of each configured session - Status of each configured call such as Dial and HangUp are displayed
Traffic Generation and QOS Measurements - Once a call is established, traffic actions such as send files/tones/digits, loop back, receive voice files, playback, and so on can be performed either manually or automatically
Call Processing Options including Hold and Call Transfer - The user can place the call on hold and can transfer the call to a third party by entering the IP address using either UDP or TCP method
SIP Registration
Auto Signaling Action
Reliable Provisional Responses (RPR)
RTP Traffic Generation
Auto-Traffic Action
Audio Stream Utility
The existing "Playback" feature is used to play the selected call to speaker on the local computer (SIP/RTP core). To allow these calls to be heard from remote systems, GL has introduced Audio Stream Utility with PacketGen™. This utility automatically streams the voice of a selected call to a speaker on a remote system.
---
RTP Action Scripting
---
RTP Impairment Generation
---
Configuring parameters using .INI files
PacketGen™ provides user customizable .ini files to suit the testing requirements. The .INI file is read once by the RtpCore on startup and will be applicable as long as RtpCore runs.
RTCP_XRConfig.ini - PacketGen™ handles signaling negotiation (as per RFC 3611) for RTCP-XR attributes through SDP in "RTCP_XRConfig.ini" file.
RTPConfig.ini
Allows to configure EVRC packing format
Provides options to disbale/enable RTCP packet transmission, and Digit detection qualification time and power.
Statistics & Events
PacketGen™ provides detailed statistics for each User Agent, SipCore as well as for the entire system. Included in the statistics are complete/incomplete calls, failed calls (based on user-defined thresholds) and type of generated traffic. Call Statistics window provide detailed call wise statistics per SipCore.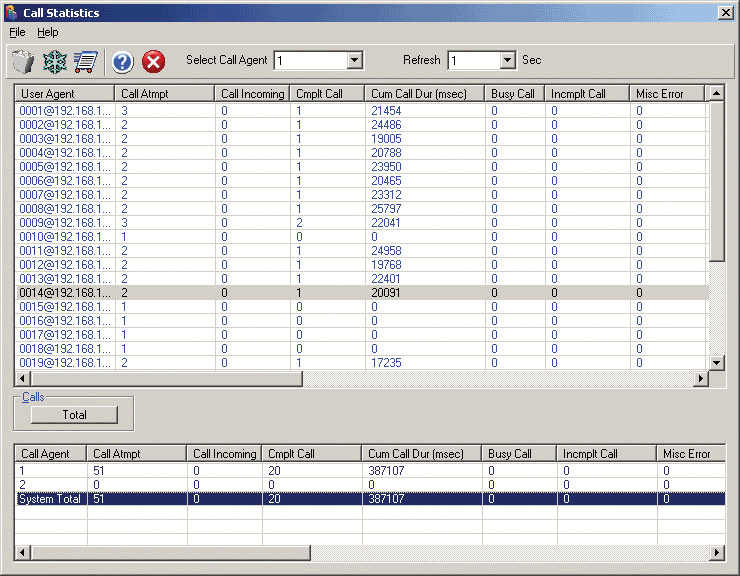 System statistics window provides the overall call statistics such as active calls in progress, completed calls, number of successful calls, attempted calls, and so on for each SipCore.

All events and statistics can be exported and saved for record or review at a later time.
PacketGen™ Screenshots
Resources
* Specifications are subject to change without notice.