Advanced Test Platforms for TDM Networks
Gaithersburg, Maryland, USA - June 11, 2019 - GL Communications Inc., provided additional insights into their advanced test platforms for TDM/Analog Networks.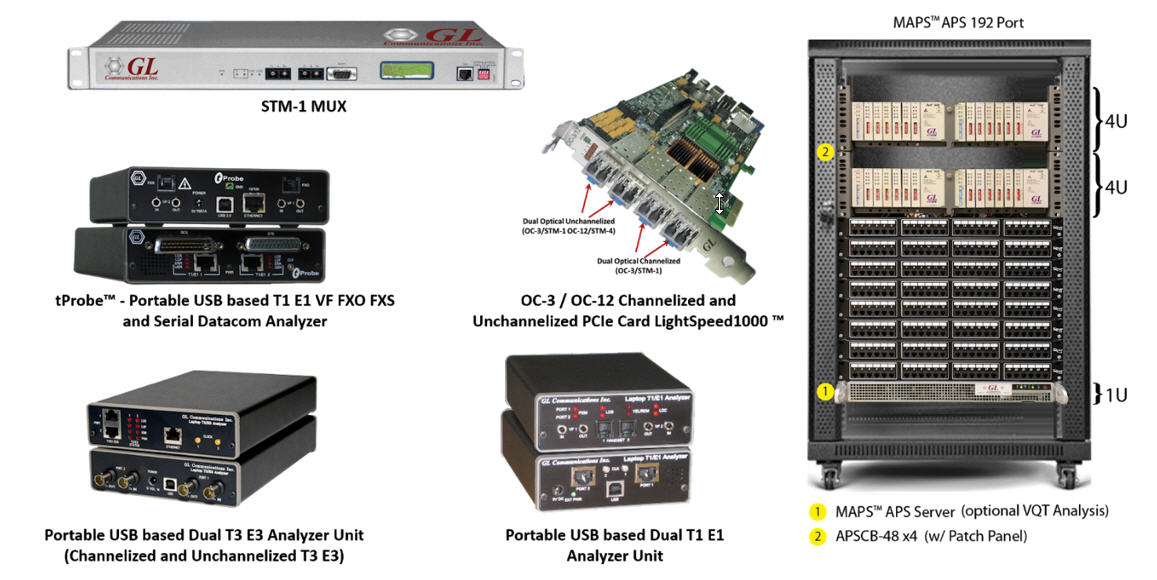 "TDM technology is used extensively throughout the world for both voice and data. ™GL's TDM Analysis & Emulation line of products include T1, E1, T3, E3, OC-3/12, STM-1/4, Datacom, Analogue 2-wire, 4-wire, external portable pods, and complete system solutions", said Vijay Kulkarni, CEO, GL Communication Inc.

He further added, "GL's versatile T1 E1/T3 E3/ OC3-12/STM1-4 test platforms provide a wide range of functionalities and testing capabilities regardless of the form-factor you choose. They are available in portable, handheld, and rack-based platforms. Regardless of the form-factor our TDM test tools provide the right solutions to meet every test requirement".

GL's TDM/Analog capabilities include -
End to End Voice, Data, Video and QoS Test Solutions:
---
Multiple TDM Optical and Packet (mTOP™)
GL's new Multiple TDM Optical and Packet (mTOP™) rack enclosure can house any combination of USB-based test equipment, including tProbe™ (T1 E1), USB T3 E3, Dual UTAs, PacketExpert™ & LightSpeed1000™. These can support the testing of multiple interfaces in a compact rack enclosure. mTOP™ systems provide space efficiency, but also account for easier scalability and reduced licensing cost per testing interface.
Each mTOP™ enclosure is a sleek 1U or 2U enclosure with the ability to support up to three GL USB based test hardware units. For scalability, a secondary mTOP™, also housing three GL USB based test equipment can be connected to the primary mTOP™, thus utilizing the same software and licenses.

Back to Press Releases Index Page