vHandi™ - Handheld Analog Line Tester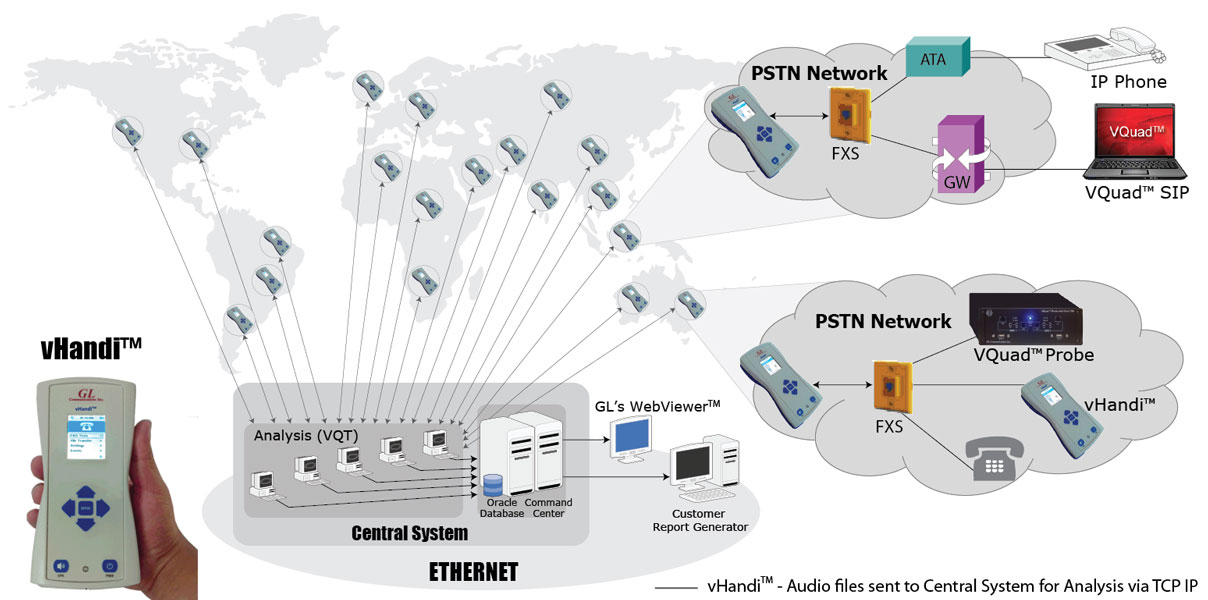 Overview
GL's vHandi™ is a compact portable hand-held FXO simulator (Foreign Exchange Office) that can simulate an analog phone. The vHandi™ call and voice tests can be completely automated or manually performed. The vHandi™ can work with GL's VQuad™, Voice Quality Test, and WebViewer™ applications to perform centralized voice quality measurements and analysis.
The vHandi™ comprises of -
FXO RJ-11 port
Ethernet RJ-45 port
USB mini port
The FXO port on the vHandi™ connects to an FXS port performing call and traffic simulation. The vHandi™ supports any FXS port including PSTN, ATA or Gateway. The vHandi™ is powered as well as managed via the USB connection. With an internal SD card, vHandi™ can be used as a mass storage device when plugged into the USB port of the PC.
With the Ethernet port, vHandi™ can be connected to the LAN, or directly to the PC for file transfers as depicted in the figure below. Transfer of recorded voice files from the vHandi™ to the remote PC can be completely automated using vHandi™ Listener and scripting.
Functions Supported by vHandi™
Supports manual and automated operations
ON hook and OFF hook (loop closure) for place call and answer call
Loop Current Drop detection (auto disconnect)
Ring Detection for incoming calls
Transmit and capture traffic (digits, tones, and voice)
Energy Detection for path confirmation or auto script synchronization
Manual/Auto transfer recorded files to remote PCs using Ethernet port
Speaker provided to hear incoming/outgoing audio from 2-wire established call
LED indication for the battery charge level for vHandi™
Generates Call Events, Error Event and Traffic Events – automatically sent to the Central System
Automate IVR testing and Quality of Service testing
Send/Record Voice files to be used in Voice Quality Measurements per ITU-T standards (PESQ, POLQA) using GL Voice Quality Test (VQT) software
vHandi™ works directly with GL's VQuadTM solution for sending/recording voice files over the network.
Full IVR test and analysis
vHandi™ can be placed anywhere in the network waiting for an incoming call. When an incoming call is detected, vHandi™ will auto answer the call and perform a pre-defined IVR and/or Voice analysis tests prior to disconnecting the call and again waiting for the next incoming call.
Events Supported by vHandi™
Call Events
Traffic Events

Incoming Call
Call Established
Call Disconnected
Dial Tone Detected
Call Failed
FXO level Detection
Silence Detection
Loop Current Drop Detection

Send / Record Voice
Send / Receive DTMF
Send / Receive Tone
Traffic Transfer/Receive Failed
vHandi™ Test Setups
Scenario 1: Place Call to DUT and perform Voice Quality Analysis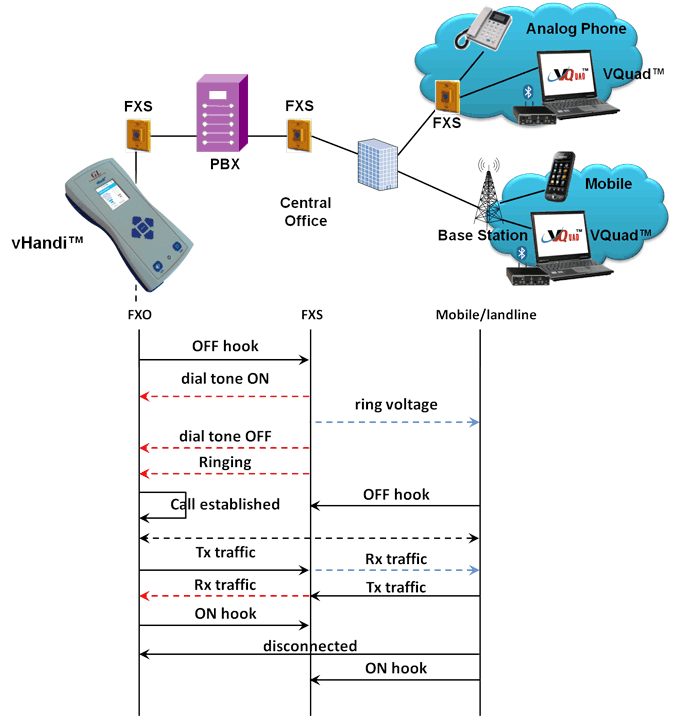 The vHandi™ can be automated to place bulk calls to different external numbers, during the testing period. The call flow shown below depicts a call from vHandi™ FXO port to the DUT through the wall jack FXS, and local PBX. Note that the far-end can also be a vHandi™ equipment answering the call in place of DUT. With the vHandi™ place call script, one can basic operations during the call setup such as place call, send DTMF digits, send or record voice, and then automatically transfer recorded voice to central location for analysis. The performed events include Off hook/On hook, check dial tone, transmit DTMF digits, monitor ring signal, and transmit or receive voice files.
vHandi™ also provides the ability to send DTMF on a established call for two-stage dialing or traversing through an IVR.
Scenario 2: Answer Call from DUT and perform Voice Quality Analysis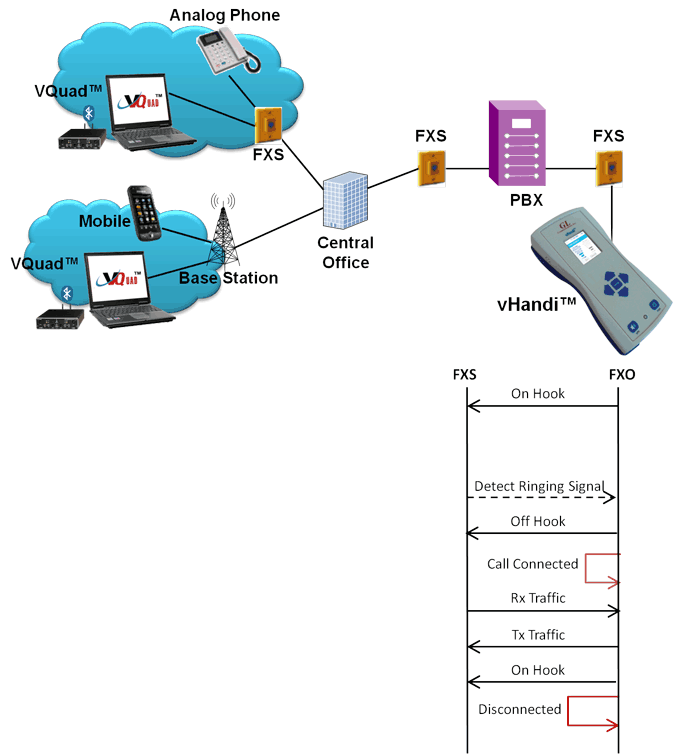 The vHandi™ can be setup to simply wait for any incoming call from a far-end DUT or vHandi™ itself. The vHandi™ answers the call, performs call confirmation, path confirmation, VQT, and/or IVR testing. It can also auto-disconnect itself and then wait for next incoming call. The call flow shown below depicts vHandi™ receiving call from DUT. The performed events include Wait for Incoming Call. Detect Ring, Go off hook (answer Call), Send or Record voice, Send Degraded file to Central System for VQT analysis, and Disconnect (onhook).
Scenario 3: Centralized Analog Voice Quality Testing using vHandi™ with VQuad™ - VQT applications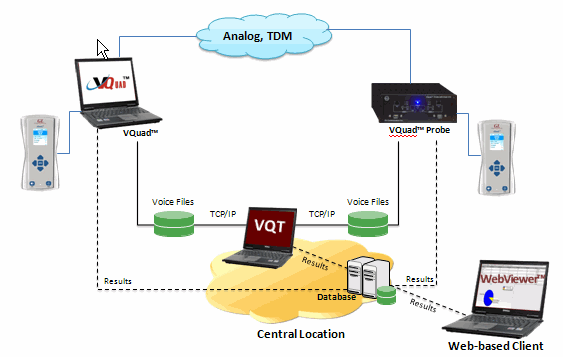 vHandi™ works directly with GL's VQuad™ solution for sending/recording voice files over the network, and sending Call Events, Error Events, and Traffic Events log automatically to the Central System. The Ethernet port is used for Management and for connecting vHandi™ to the Central System for voice analysis as well adding events to the Central Database.
Specifications
Power

(1) USB Mini Jack for charging to a PC USB
Battery life 4 hours under full operation, 8 hours with maximum conservation
(idle states)

Ethernet

(1) RJ-45 Jack
Supports 10/100 Ethernet

FXO

(1) RJ-11 Jack
2W Call/Answer
2W International Impedance Control
US (typical 600 Ohms)

Temperature

Operation:
0˚C – 50˚C
32 F – 120 F
Storage:
–20˚C – 70˚C
–4 F – 158 F

Physical Dimensions

Length: 154.9 cm
Width: 77.9 cm
Height: 33.5 cm
Buyer's Guide:
* Specifications are subject to change without notice.